Growing Hearts Across the World
In celebration of 100 years of Rotary in our region, area Rotary clubs are partnering with others to develop a garden to honor the Sister City relationship between La Crosse, Wisconsin and Kumbo, Cameroon. The effort is called "Growing Hearts Across the World." The garden will reflect the culture of Cameroon. Partners are: Riverside International Friendship Gardens, Inc., the La Crosse Friends of Cameroon, the City of La Crosse, Bluff Country Master Gardeners and area citizens.
The Growing Hearts Across the World campaign includes:
Cameroon Garden: A new garden at Riverside International Friendship Gardens honoring Kumbo, Cameroon
Hearts to Schools: 90% of donations made to Hearts to Schools will fund books, iPads, and laptops for rural schools in Cameroon; while the remaining 10% will be used to fund maintenance for the Cameroon Garden
Key Milestones
Summer 2019: The new Cameroon Garden is completed
September 2019: Rotary Centennial Celebration
The Cameroon Garden
The Cameroon Garden honors the rich cultural traditions of Cameroon and provides a gathering place where the "Three Rivers" meet. It is designed to serve as a model for community and international service for upcoming generations of Rotarians, and all community members.
Garden Layout
Find the Cameroon Garden on the west side of the Convention and Visitors' Bureau in Riverside Park in Downtown La Crosse.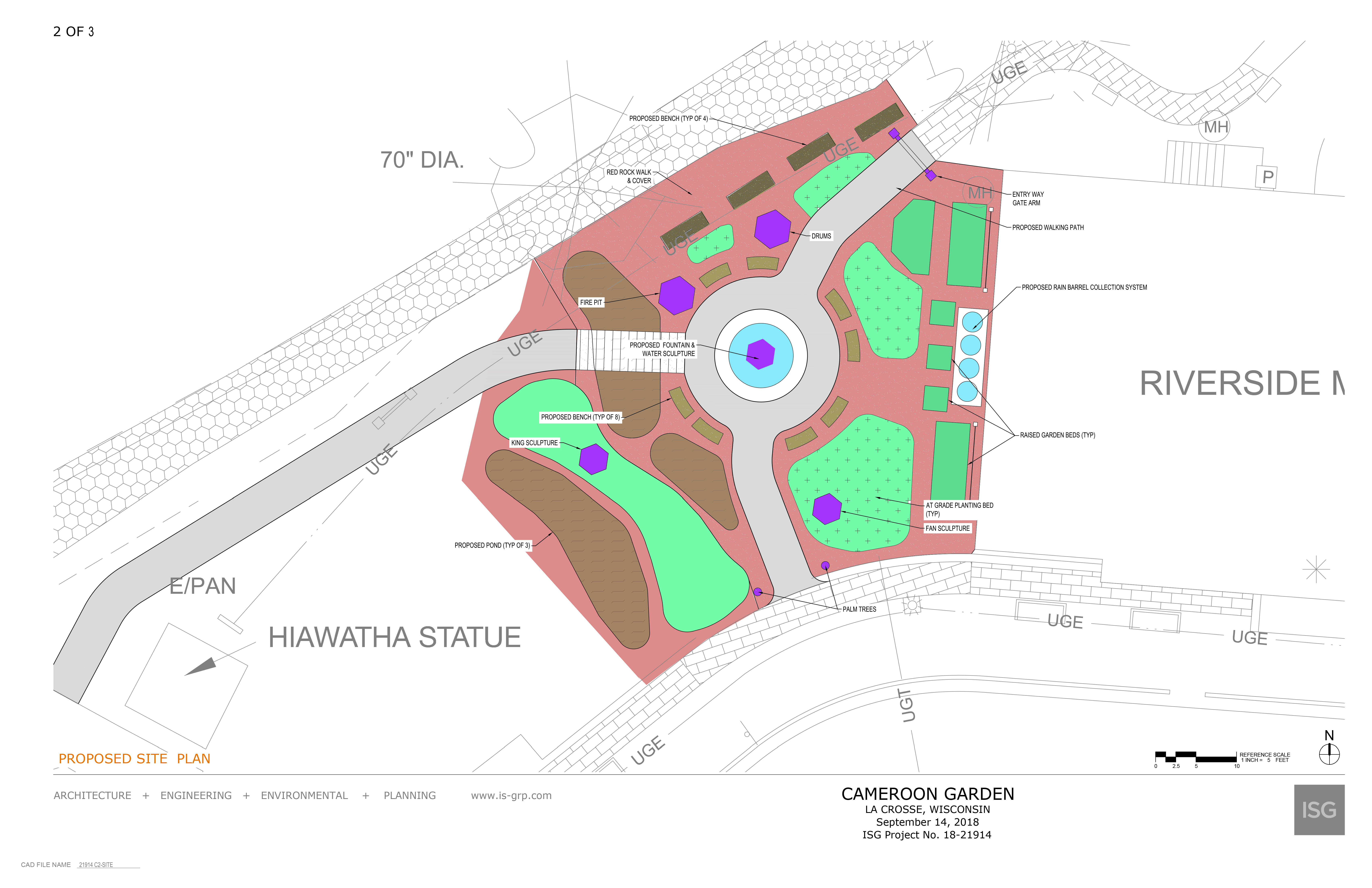 Artwork
The new Cameroon Garden will feature a variety of works of art created specifically for the garden. These will include:
Fon Sculpture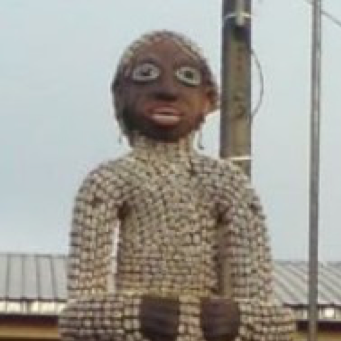 The FON is the traditional leader of the NSO tribe. The story of the Ngonso and the ongoing narrative that 'the Fon never dies' exemplifies the strong role of folklore and oral tradition of the culture. This is the original FON and also the FON of our sister city in Kumbo, Cameroon. The oral history shared is that this area was invaded. There were two brothers and a sister who were by the water's edge. The two brothers abandoned the sister, crossed the water, and each founded a new area and became the leaders of those new areas. The sister turned around, organized the people, and led a successful fight against the invaders. She saved the community and became the original FON. The FON is important to everyday living and guiding of the community.
Mami Wata (Mermaid)
Mami Wata is a mythical being that is common to all of Cameroon. She is a mermaid of the sea and the river. Families share stories of Mami Wata around the fire where they gather after dinner. Parents use Mommy Water to scare the children from going into the water too deep or for too long. They say she will take them if they go too far or are in the water after 6 pm. She is a big part of their culture for good and bad.
View an illustration of Mami Wata here.
Turtle and Lizard and Soccer Ball
Sculptural turtles and lizards will be included throughout the pool area and climbing up on the walking stones. Turtles and lizards are some of the few commonly seen animals in Cameroon and are of symbolic significance. The people of Cameroon have their artistic elements as part of their everyday world that they walk amongst. Having a turtle, lizard, and a soccer ball puts elements similar to what one would see in Cameroon into our garden in La Crosse.
Sculptural Fireside with an Adult and Two Children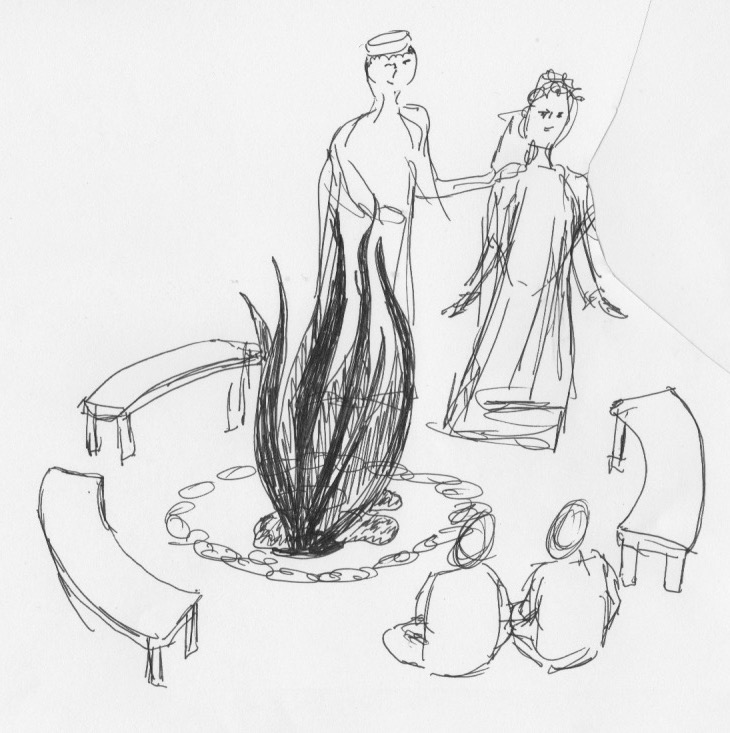 Cameroon remains a culture where oral history is shared from generation to generation; after dinner it is common for mothers to share stories with children while sitting around the fire. They always keep three large rocks in their fire just in case they wish to cook something (by placing pans of food on the heated rocks). In this piece of artwork, there will be space on the benches around the "fire" for people to sit amongst the sculptural family. There will also be room for an individual using a wheelchair to join the circle. The metal fire could be lit for nighttime. The two children would be looking up attentively at their mother.
Sculptures of Children Dancing around a Drum
Dancing is a part of the daily culture in Cameroon. In fact, each day, the TV stations play specific dance music for an hour so children can enjoy dance time! In addition, people dance frequently to drum music. For our sculptures, we will have two girls and a boy situated around a drum. (Children are revered in Cameroon culture.)
Entryway
There will be a stylized entryway between the Irish garden and the Cameroon garden. In Cameroon, these entryways are common. They are often made with square decorative blocks featuring symbolic animals such as the spider, lion, and lizard.

Click photos to enlarge
Sculpture of Sense Pass King
Sense Pass King is a Cameroon story that has been shared with children for generations. In it, a little girl is born, and she grows to have more wisdom and skill than even the king possesses by the time she is two years old – so they call her Sense Pass King. The king plots to destroy her, but in the end, she saves the king by balancing on her tiptoe on the edge of a ship and shooting an arrow at a sea monster. It is a beloved story. We imagine a sculpture of her in this pose amongst our hills. We would like to have a little library in this garden to make this, and other stories from our seven sister cities, available.
View the Sense Pass King book here.
Raffia Palms
Two large metal raffia palms will create an entryway to the garden, illustrating Cameroon's most common and loved palm tree.

Click photos to enlarge
FAQ
Why a Garden?
As background to this project, it is important to note the following core values which have served as area Rotary clubs' guiding principles since our inception 100 years ago: service, fellowship, diversity, integrity, and leadership. Our Clubs' membership consists of a network of friends, neighbors, leaders and problem-solvers. Utilizing this network to come together to make positive, lasting change in our community is what Rotarians do. By adopting a project on the North End of Riverside Park, our club will focus on these core values. Lastly, this project will be inclusive of many organizations, thereby building community with the City of La Crosse.
Why Cameroon?
Years ago, the Franciscan Sisters of Perpetual Adoration ("FSPA") developed a relationship with the Republic of Cameroon. Cameroon is a coastal country in West Central Africa. Over the years, the relationship which began with the FSPA has grown into an officially recognized "Sister City" relationship with the city of Kumbo, Cameroon. Today, all of the countries with which La Crosse has a Sister City relationship are recognized in the Gardens, except for Cameroon. These include: Luoyang, China; Epinal, France; Friedberg, Germany; Dubna, Russia; Forde, Norway; and Bantry, Ireland.
Where will the Cameroon Garden be Located?
The new Cameroon Garden will be located on the west side of the Convention and Visitors' Bureau in Riverside Park in Downtown La Crosse.
Who Will Care for the Garden Long-Term?
Maintenance will be undertaken as a joint effort by the International Friendship Gardens Committee and the La Crosse Parks Department.
Who is Leading the Project?
The project was initiated and is being led by the Downtown Rotary Club of La Crosse in collaboration with the International Friendship Gardens Committee. Have questions or comments? Contact Lee Rasch at Leerasch42@gmail.com.
What is Rotary?
Rotary is an international service organization. Rotary members believe that we have a shared responsibility to take action on our world's most persistent issues. Our 35,000+ clubs work together to:
Promote peace
Fight disease
Provide clean water, sanitation, and hygiene
Save mothers and children
Support education
Grow local economies
In 1919, The first La Crosse Area Rotary Club was founded in 1919 as the Rotary Club of La Crosse. Today, we have eight more area Rotary Clubs: La Crosse East, La Crosse Valley View, La Crosse After Hours, La Crescent, Caledonia, Onalaska, Onalaska Hilltoppers and Holmen, with more more than 520 members. In addition, the La Crosse area now has seven high school Interact Clubs (Central, Logan, Aquinas, Onalaska, Holmen, West Salem and Caledonia) with more than 140 active members. These clubs all operate independently, with combined efforts through the Rotary Works Foundation, and all are committed to Service Above Self!
How Can I Help?
If you would like to support the project, you can view a list of volunteer opportunities and/or make a monetary or in-kind donation. All forms of support are welcomed and appreciated!
Why Others are Supporting the Project
I support Growing Hearts Across the World because making a public and meaningful connection with a country who does not have a big voice or presence shows that we care about all people here in La Crosse. It speaks to the very essence of Rotary in a way that many people will experience.

–Eva Marie Restel
I support "Growing Hearts Across the World" because…it combines support for the arts, promotion of our community, education about our sister city in Cameroon, a celebration of 100 years of local Rotary service, and on-the-ground support for the children of Kumbo.

–Catherine Kolkmeier
I gave to the Growing Hearts Across the World Campaign for two reasons. The first is because I love how it publically promotes the acceptance of cultural diversity in our community. And secondly, this project has local and international impact which perfectly aligns with Rotary and its causes.

–Jodi Widuch
I support Growing Hearts Across the World because it tics so many boxes: contributing to the physical beauty of La Crosse while teaching about and honoring the culture of far away friends, working on a project that is collaborative—providing fellowship and unifying our area Rotary clubs, dramatically improving the education of Cameroon children….and showing anyone watching that many hands do, indeed, make light work.

–Sue Durtsche
I support Growing Hearts Across the World as a tribute to Sister Mark. Sister Mark was at our club meeting last year where she was presented with a Paul Harris award. Her work at St. Elizabeth's Hospital in Shisong, in Cameroon has made a huge difference in the dental care and procedures the people in her town and the surrounding area are able to receive. When I told her of the plan to add Cameroon to our international garden she was overjoyed at the prospect. Sister Mark is an inspiration to me and many other people whose lives she has touched.

–Kathryn Sexauer
Naming Opportunities
Several naming opportunities are available for elements within the new Cameroon Garden. Once named, a plaque will be placed at the element to recognize the donor. Contributions from individuals and businesses are invited!
Benches facing the river: $5,000
Benches near the center pool: $3,000
Planting and flower beds at grade throughout the garden: $5,000; $2,500; $1,500
Bridge over rain garden connecting central garden with entry path: $5,000
Raised Berm with plantings and site for sculpture element: $5,000
Raised planting beds for vegetables and decorative plantings: $1,500; $1,000; $750
Rain gardens to filter rain water before flowing to the river: $3,500; $2,500; $2,000
Rain barrels with traditional Cameroonian decoration: $500
Sculpture Elements – contribution amounts to be determined.
Raffia palms at entrance to Cameroon Garden
Mami Wata in pool at the center of the garden
Fon sculpture inside entrance to Cameroon Garden
Turtle, Lizard, and Soccar Ball in pool at the center of the garden
Fireside Family Storytelling near the shore, overlooking the river
Children dancing and drumming
Entry arch with traditional Cameroonian carving
Sense Pass King placed on raised berm
Ways to Donate
By Check
Donations to the Growing Hearts Across the World can be made to:
Rotary Works Foundation
P.O. Box 1571
La Crosse, WI 54602-1571
By Pledge
Download a pledge card (PDF)
Mail your completed pledge card to:
Rotary Works Foundation
P.O. Box 1571
La Crosse, WI 54602-1571
Online Donation
Volunteer Opportunities
For information about volunteer opportunities, please contact Steve O'Malley.
Current Committees:
Riverside International Friendship Gardens Committee
Fundraising Committee
Social, Event Dedication & Party Committee
Volunteer Committee
Art Committee
Marketing / Media Committee
Community Partners
A big "thank you" to all of our community partners! Without you, this project would not be possible.
La Crosse-area Rotary Clubs
International Friendship Garden (La Crosse Sister Cities)
La Crosse Friends of Cameroon
The Franciscan Sisters of Perpetual Adoration
Mayor Kabat and the City of La Crosse
ISG
Partners
Bluff Country Master Gardeners, City Parks, and RIFG Board
Project Updates
Follow us on Facebook for project updates, or sign up via email below.
Contact
Questions, comments, or suggestions? Contact Lee Rasch at Leerasch42@gmail.com.